Do you love beer? Have you every wanted to work at a brewery? If so, visit

opportunities

at Footbridge Brewery.
Tasting Room Hours
Come visit us from Noon-8pm
Thursday-Monday
HAND CRAFTED ARTISAN ALES
A small batch brewery tucked away in Boothbay Harbor, Maine.

Focused on making craft beer with as many Maine sourced ingredients
as possible while conserving our natural resources.

With a broad array of styles, we may have the beer for
your palate and a few beers that you may not know you were looking for until
now.

Our family friendly tasting room is the perfect place to
have a beer, some food and spend some time with family and friends.

Whats On Tap
FOR THE LOVE OF BEER
Everyone who loves Boothbay Harbor, Maine, knows of the historic old house attached to the middle of the longest wooden footbridge in the country. The footbridge and house is the representation of our values and beers. Elegantly simple, pure and will stand the test of time.
But did you know ?
"In Boothbay Harbor, there is a hole in the floor near the back of the Bridge House, located at the center of the footbridge. This hole was cut and used by rum-runners to secrete liquor by handing up the bottles or kegs from boats and thus avoid the Maine Law and federal prohibition enforcement authorities."

Up Coming Events
Oct 15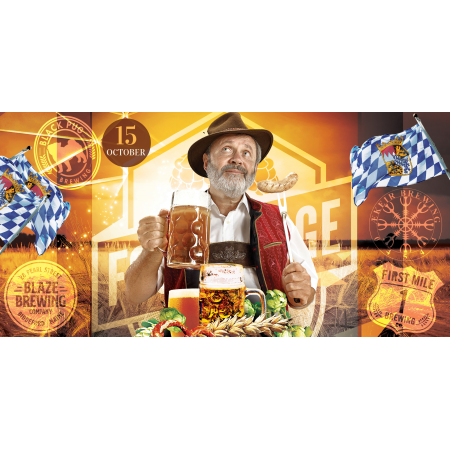 Oktoberfest
Noon - 8:00PM
25 Granary Way

Enjoy beers from First Mile Brewing Company, Black Pug Brewing Company, Blaze Brewing Company and Maine brewery newcomer Ækeir Brewing! Each $30 ticket includes a commemorative stein, entry into the tasting event, local Bratwurst from Springdale Farms, Bavarian pretzels, Sauerkraut from Morse's Sauerkraut and mustards from Raye's Mustards. Raise a glass of our seasonal release Oktoberfest and cheers good beer, good food and good friends! Event Starts at Noon and goes until 8 PM. We only have 90 Steins after we run out you can still come and enjoy Beer and food for only $20. Our Brewery only has a capacity of 65. Entry will be first come first served. Show up in traditional Oktoberfest garb and receive a door prize!

WHO WE ARE
Our Beliefs
We brew beer as we live life!
Local Ingredients

We want to bring you the best that Maine has to offer. All of our beers utilize as many Maine sourced ingredients as possible.

Always available
Even when the town starts to sleep for the winter, we are open and making beer. Do not let the snow scare you and come visit Boothbay Harbor in the winter for beer and a beautiful winterscape.

Friendly
Every beer tells a story just like people and we want to hear yours. Come for the beer leave as friends.

Ever Evolving
We never stop creating new beers and shaking things up. We always have something new on tap!

Contact us
Follow us on Facebook for the most up to date information about the brewery.
We love talking about beer. If you would like to talk about beer with us please call or email us !